Islam, which means surrender to Allah (God). was introduced to the Arabs by Prophet Mohammed in 600 AD. The main scriptures through which the Muslims seek spiritual guidance are the Holy Quran and the Hadith (Sunnah). Muslims believe the Quran to be the word of God Almighty and the Hadith, the traditions, sayings and the actions of Prophet Mohammed.
The most important thing for a Muslim (a person who has surrendered his will to the will of God) is that he should try to achieve or attain his 'MERAJ' or ASCENT. Unfortunately, this achieving of one's ascent has been completely side-lined by the Muslims. They are more involved in superficial things, erroneously believing them to be very spiritual. For example, trying to earn SAWAB'S (MERIT). arguing how long their beard should be or how they should stand and where should their hands be during SALAH (NAMAZ), the five obligatory prayers a Muslim must perform daily. They have become fanatical, trying to convert the whole world to Islam when they themselves have lost the true meaning of it. Prophet Mohammed said 'Salah is the Meraj for the believer', meaning, that if performed properly, this Salah or prayer (in fact, it is meant to be meditation) will ultimately lead you to your Meraj or Ascent.
It is only after getting self-realization, which happens spontaneously in Sahaja Yoga, that one understands Islam correctly and experiences ASCENT / MERAJ.
The Quran and the Hadith speak specifically about Meraj.
In the first chapter of the Quran, 'SURAH FATIHAH', which means the opening chapter (a Muslim recites this 48 times daily during his/her obligatory prayers), it says:
'EIH DEENASSIRAT AL MUSTAKEEM
SIRAT AL LADEENA
ANA AMTA ALAIHIM
GAIRIL MAGDUBI ALAIHIM
WALAD DUA'A LIN'
Which means:
"SHOW US THE STRAIGHT PATH THE PATH ON WHICH YOU HAVE BESTOWED YOUR FAVOURS NOT OF THOSE WHO HAVE INCURRED YOUR WRATH AND HAVE GONE ASTRAY"
AL-QURAN. CHAPTER-1, VERSES 6-7.
It clearly states that we have to be on the straight path where God bestows his favours. The diagram of a yogi in meditation clearly shows the left, right and center channels. It is on the central channel, called in Yoga the Sushumna Nadi (Sirat al Mustakeem), that all the Chakras (spiritual centers) are situated. Once enlightened by the awakening of the Kundalini, you get your ascent. Then all the favours of God Almighty are bestowed upon you. When this awakening takes place a person becomes his or her own Master or Guru, making it difficult to go astray and incur "God's wrath".
In the Hadith, Prophet Mohammed said that one has to walk on the central path and not to go to the right or to the left. This means that one has to be not only in balance but must maintain it. Being in balance is well understood by Sahaja Yogis.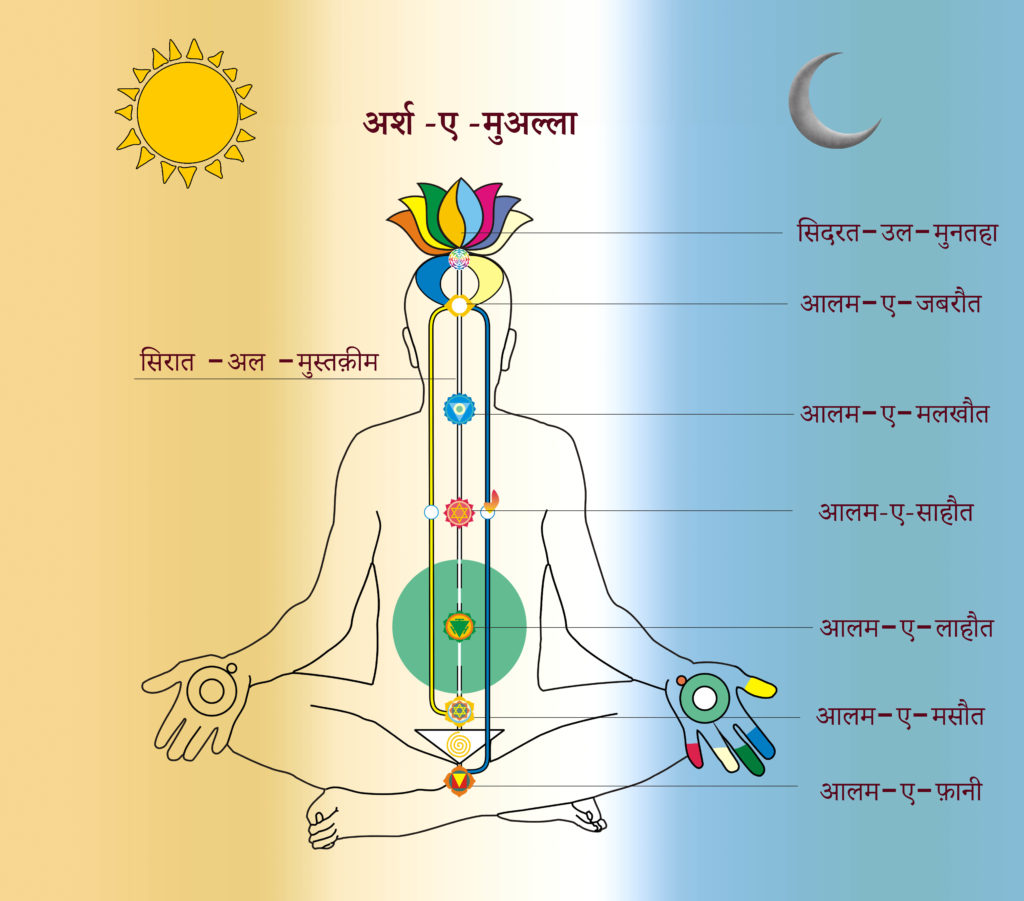 Two channels, the right and the left, are from where our desires and actions arise. When these desires or actions dominate, a person becomes unbalanced and loses control. This imbalance causes a lot of disturbance. A person. who is in the central channel, is not dominated by desires or actions but surrenders everything to God. They firmly believe that God takes care of everything. By staying in the center they are not disturbed by the many things happening in today's hectic and stressful world. This is only possible when one has surrendered to God completely. This is why Prophet Mohammed has told his followers to be in the center (balance).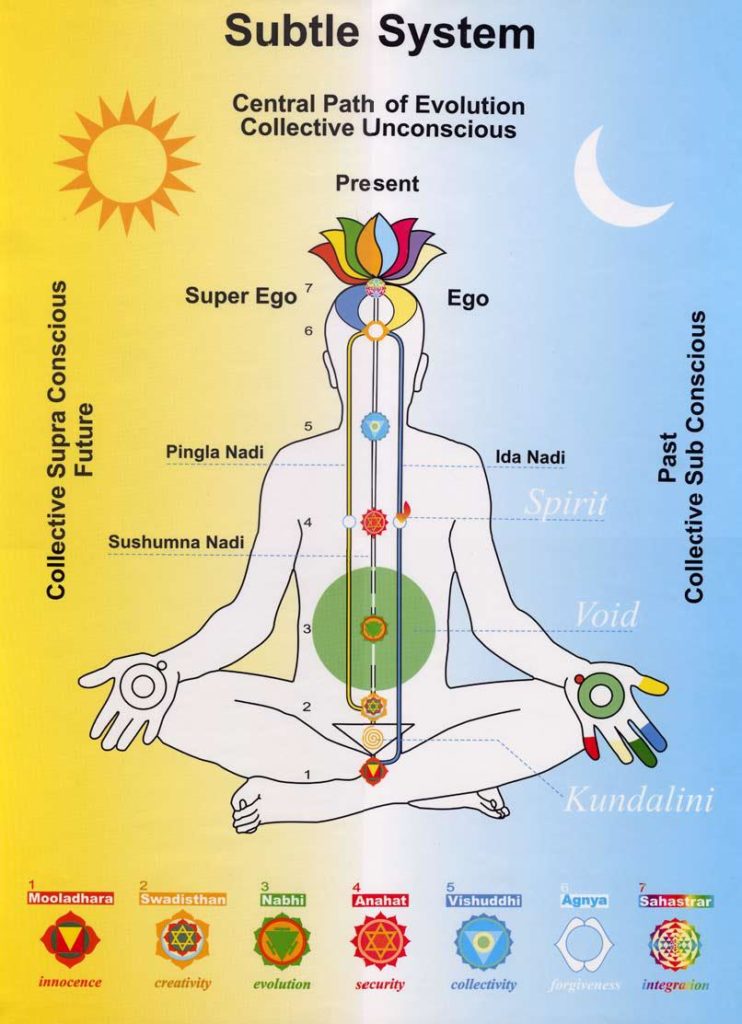 Extract from: Islam Enlightened