With the grace of Shri Mataji, we have published a full page article on Shri Rama to commemorate the forthcoming festival of lights – Diwali – the victory of good over evil. As Sahaja Yogis, we know that Shri Rama resides in our hearts and that with Sahaja Yoga Meditation, we awaken Lord Rama in our hearts! When HE awakens in the hearts of citizens, only then the true Rama Rajya will get established!
We have received donations from Sahaja Yogis becasue of which this advertorial was possible! Thanks to all th generous donors.
Deposits are directly collected by the advertising agency in-charge of publishing the article. In case of doubts or clarifications, one may contact the concerned persons given below.
Please find the account details attached below:
A/C no : 10190008829786
A/C name : Aakar Advertising Media
Bank name ; Bandhan Bank
A/C type : Current
Branch : Vikas Puri, Delhi
IFS Code : BDBL0001973
For sending pic of deposit details on Whatsapp,
Contact: Shiv Kumar Verma: 9810401352, 9540418307
S.S Ahuja : 9871278323
For further information, contact:
G.K Adlakha, Ghaziabad NCR Region
Whatsapp:+91 98712 78936
Phone : +91 93154 12133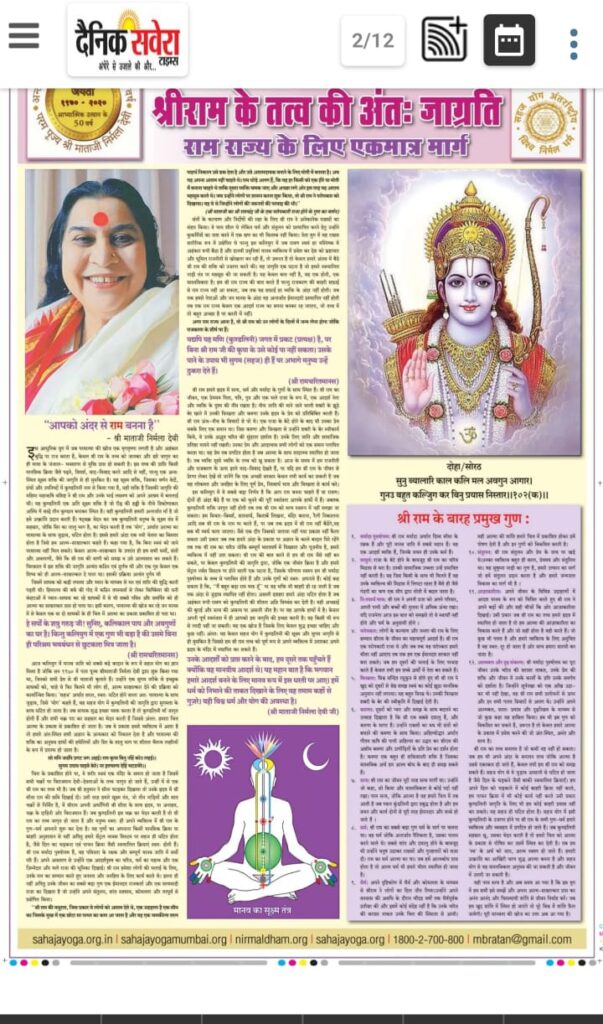 Click to view epaper:
http://epaper.dainiksaveratimes.org/m5/2883977/Punjab-main/Punjab#page/2/1
09-Nov-Jhansi-Page

Bhaskar-PDF-9-Nov-20

Ram-Hindi-FInal-New

Shri-Rama-SY-Posters

The-Letter-Awakening-the-essence-of-Shri-Rama-Hindi

The-Letter-to-Sahaja-Yogis